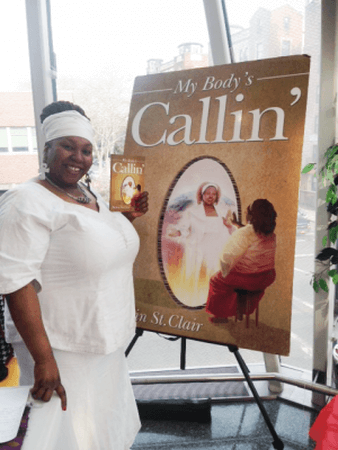 Robin St. Clair ins an insightful, inspired, down-to-earth coach and spiritual teacher. She possesses the unique ability to present abstract concepts to her clients in clear, practical, step-by-step language while offering interactive tools making them easy to understand and apply.
-Dr. Jean B., Ph.D
Grace in Transformation -New York, NY
---
Robin is the best at smoothing down your rough edges, whether or not you realize you have them.
-Brian L.
Fiduciary Manager -Queens, NY
---
Thank you, Robin! You are special, creating a clear space for self-expression. I am so thankful for having the experience of your coaching and I look forward to introducing others. Spirits like yours are so needed. Your words took the upset away. I love you Sis!
-Aminisha B.
The Parent's Notebook -Brooklyn, NY
---
For years I've always felt alone, unloved, and ugly. I had trust and abandonment issues. I created a world of amour, building a wall to protect myself from being hurt. I would secretly cry at times asking God why can't I be happy or loved.
The Rebirth Program turned into my own journey of awareness and acknowledgment. The walls began to fall down with the help of my coaches and my rebirth sisters.
I realize my body was deteriorating inside, things were so uncontrollable which lead to multiple stays in the hospital. I wanted to live, to be whole again I realize my past as a little girl was broken and unhappy. She had to be whole so I could be whole. She had to find the voice she lost and the love she wished she had.
I accepted that I am worthy of unconditional love and trust. I am the beloved daughter of God who is pleased and accepts me for who I am.
I find myself using my T.O.O.L.S., on my journey.
I THANK YOU, Robin, my coach and the ReBirth sisters for the support and love you extended to me through this journey. of body text
---
The ReBirth process was a wonderful joy! It helped me move through dishonesty issues. It also helped me to see that honesty brings clarity. Now that I am clear, I can see what's ahead of me, forgive and embrace what's behind me and expect the fruitful blessings that are coming my way.
-Empowered SISTA, Salema D.
Inaugural Graduate 9/12
---
I am forever grateful to Coach Robin and TheRiteStep's ReBirth YourselfTM program. The process provided me with loving coaching and tools to dig deep within. I was able to get to the root of my wounded story. I healed some deep emotional wounds with forgiveness and gratitude while being supported in rewriting my story. I face my deepest fears as I addressed issues in my personal life that I had been avoiding, like completing my divorce procedures, putting closure to unhealthy relationships and moving forth with my ministry/life work.
I also was able to create a more loving relationship with my family. The coaches and ReBirth doulas offered a blanket of love as I allowed myself to be vulnerable so that I could get to the core of my pain and move through the resistance and stagnation. They spent their precious time reading my assignments and getting to know my story in order to support me in my healing.
Now I am feeling as free as the Bennu Bird, moving forward with my life work spreading tools for healing and wellness. I love my ReBirth family!
-Empowered SISTA, G. Harry aka Mut Ra-T
Inaugural graduate 2012