I was confused, depressed my emotions were spinning in circles. Now one knew or understood my suffering with the transition of my mother. No one knew my abusive past and the skeletons surrounding the choices of my present.
I was trapped in my own pain and did not have any tools to break the chains. Drugs, violence, and failures became my everyday existence. I presented a facade to mask all the pains that truly were embedded within my soul. Robin St. Clair, The Cycle Breaker, my SISTAH, my niece, my Life Coach saw me where I was and provided me with all the tools to release the guilt and shame. We read together, prayed together, cried together, worked together, and walked through my journey as ONE.
I was torn between my sexuality, spirituality, and responsibility to my family and partners. With that being said, Robin reminded me to focus on what truly matters; not lose myself in that which I had no control. The most helpful thing I have learned is to stay focused on my vision, my goals, on ME. My journey is far from over, breakthroughs are happening constantly, so the work for me is far from over. I thank God for Robin St. Clair and the SISTAH circle that I now can share my life with.
-Starre D.
---
Working with Robin is always a pleasure. She has a gentle way that makes me feel heard, yet coaxes me forward, out of my comfort zone to growth & healing. She is able to distill teachings down into digestible pieces, and has an uncanny ability to re-language them, if need be, so her audience can better understand. With compassion & grace, Robin helps her clients find their deepest truths and adjust their lives accordingly to live in better harmony with what they've found.
-R. McMahon
---
Thank you! Thank you! Thank you! When I started this program. I didn't know how deeply I would be affected. I was at a low point in my life. I was longing for a new experience. I wanted my mind to be at ease. I wanted to feel carefree, energized and excited about life. this program allowed me to see, know, "inner-stand," as well as understand that I am the common denominator in my experience. I learned that my thoughts ( both conscious and unconscious), words, choices, and actions shape my experience. During the process, I wanted to quit so many times. I found it challenging to look deep into and at myself. I had to review my choices and accept responsibility for my part in creating the things that I did not want in my world. I was humbled on countless occasions. I am, and will forever be, grateful for my coaches, whose words guided me in the dark, whose hands pulled me from the trenches of my own mind, and whose love allowed me to grow wings and soar.
I also stand in great appreciation of my S.I.S.T.A'.s, in whom I was afforded the opportunity to view as my reflection in a multitude of ways. These were the women who held me up when I thought I could only go down.
What I ultimately learned is the power to shift, move, grow and get what I want in life has lived in me all along. And that the power truly works when I am willing to release the "stuff" I hold onto that no longer serves me. I remain open to receiving what I want and ask for, the way God chooses to give it to me. I am now basking and bathing in the light of my ReBirth experience and I am peacefully embracing a new way of being. The RiteStep's ReBirth YourselfTM program provided me with the tools and support to transform my life. I am Forever Changed
-Empowered SISTA, Nancy B.
Inaugural Graduate - 9/12
---
As a coach you have a calming energy. You have helped me get to the heart of the matter with your soothing tone of voice, your clear and focused questions, loving attention and willingness to share your experience. Thank you.
-Nancy B.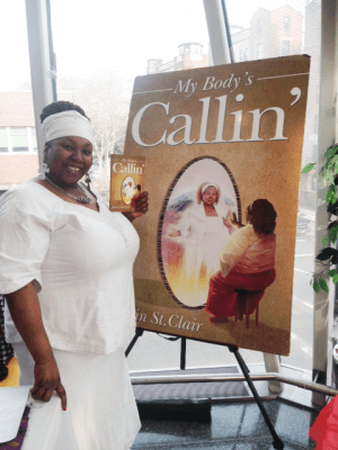 Robin St. Clair ins an insightful, inspired, down-to-earth coach and spiritual teacher. She possesses the unique ability to present abstract concepts to her clients in clear, practical, step-by-step language while offering interactive tools making them easy to understand and apply.
-Dr. Jean B., Ph.D
Grace in Transformation -New York, NY
---
Robin is the best at smoothing down your rough edges, whether or not you realize you have them.
-Brian L.
Fiduciary Manager -Queens, NY
---
Thank you, Robin! You are special, creating a clear space for self-expression. I am so thankful for having the experience of your coaching and I look forward to introducing others. Spirits like yours are so needed. Your words took the upset away. I love you Sis!
-Aminisha B.
The Parent's Notebook -Brooklyn, NY
---
For years I've always felt alone, unloved, and ugly. I had trust and abandonment issues. I created a world of amour, building a wall to protect myself from being hurt. I would secretly cry at times asking God why can't I be happy or loved.
The Rebirth Program turned into my own journey of awareness and acknowledgment. The walls began to fall down with the help of my coaches and my rebirth sisters.
I realize my body was deteriorating inside, things were so uncontrollable which lead to multiple stays in the hospital. I wanted to live, to be whole again I realize my past as a little girl was broken and unhappy. She had to be whole so I could be whole. She had to find the voice she lost and the love she wished she had.
I accepted that I am worthy of unconditional love and trust. I am the beloved daughter of God who is pleased and accepts me for who I am.
I find myself using my T.O.O.L.S., on my journey.
I THANK YOU, Robin, my coach and the ReBirth sisters for the support and love you extended to me through this journey. of body text
---
The ReBirth process was a wonderful joy! It helped me move through dishonesty issues. It also helped me to see that honesty brings clarity. Now that I am clear, I can see what's ahead of me, forgive and embrace what's behind me and expect the fruitful blessings that are coming my way.
-Empowered SISTA, Salema D.
Inaugural Graduate 9/12
---
I am forever grateful to Coach Robin and TheRiteStep's ReBirth YourselfTM program. The process provided me with loving coaching and tools to dig deep within. I was able to get to the root of my wounded story. I healed some deep emotional wounds with forgiveness and gratitude while being supported in rewriting my story. I face my deepest fears as I addressed issues in my personal life that I had been avoiding, like completing my divorce procedures, putting closure to unhealthy relationships and moving forth with my ministry/life work.
I also was able to create a more loving relationship with my family. The coaches and ReBirth doulas offered a blanket of love as I allowed myself to be vulnerable so that I could get to the core of my pain and move through the resistance and stagnation. They spent their precious time reading my assignments and getting to know my story in order to support me in my healing.
Now I am feeling as free as the Bennu Bird, moving forward with my life work spreading tools for healing and wellness. I love my ReBirth family!
-Empowered SISTA, G. Harry aka Mut Ra-T
Inaugural graduate 2012